Essex Police sacks two of its officers after they are convicted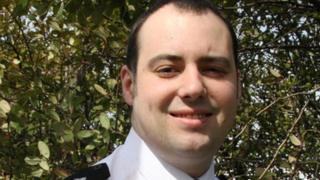 A senior police officer who admitted making an indecent image of a child has been sacked.
Ch Insp Ben Hodder, 34, from Thurrock, was given a suspended six month jail term at Snaresbrook Crown Court last week.
Chief Constable Stephen Kavanagh sacked him on Friday during a fast-tracked disciplinary hearing.
Mr Kavanagh said: "I want to make sure that Essex Police employs only the bravest and the best."
Mr Kavanagh also fired PC Stephen Tilley, 36, of Rayleigh, who was convicted at Ipswich Crown Court on 20 March for misconduct in a public office.
Mr Kavanagh said: "Every day I hear of Essex Police officers placing their lives on the line to save others, stop crime and bring offenders to justice.
"This force has a huge amount to be proud of which is why I find it hugely disappointing when rogue officers like these two let down their colleagues and the people of Essex so badly."