Cyclist pushed along Grays road by 'hit-and-run' van driver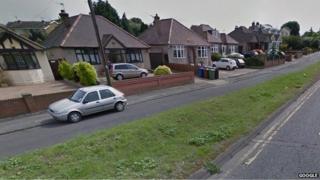 A cyclist was pushed along a road for 40ft (12m) and left injured on the ground after she was hit from behind by a large van that fled the scene.
The 30-year-old, from Grays, Essex, was on a residential access road at Lodge Lane in Grays at 20:30 BST on Sunday.
Police are looking for the van driver described as a white man aged between 20 and 30.
The van, registration MA59XUC, was found later, abandoned and set on fire in Biggin Lane, Grays.
Paramedics took the woman to Basildon Hospital where she was treated for various injuries but none were life-threatening.
PC Mark Turner said: "The van driver knew he had struck the cyclist but yet still fled the scene for only reasons he can explain.
"He showed total disregard for the life of this young woman.
"I would urge the van driver to come forward voluntarily.
"But I would also urge the community to help and if anyone is aware of who has been using this van in the Grays area we would like to hear from them urgently."