Escaped Suffolk golden eagle found safe and well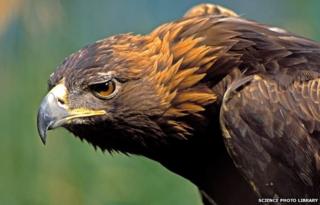 A golden eagle which prompted a police warning after it escaped has been found just over a mile (1.6km) from its home.
The bird of prey went missing from private premises near Stratford St Mary, Suffolk, on Wednesday morning.
Suffolk Police said the eagle had been fed recently but warned it might "prey on small animals".
The bird, which had a ring and tethers on, was spotted by a member of the public and has been returned to his perch.
The Golden Eagle
Heavily persecuted in the past, eagles are gradually increasing in number, with 400 breeding pairs thought to be in Scotland at present
Pairs mate for life, using just one nest site year after year
Aerial courtship displays are performed with plunging and looping flights, and although eagles are most often seen soaring high, they also practice the art of ambushing their quarry from near ground level
Source: BBC Nature