Harlow 'butchered' swan killer sought by police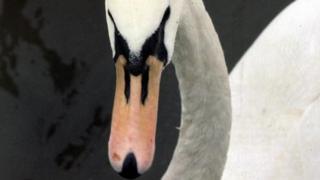 A swan that was killed before its "butchered remains" were strewn across a towpath, prompted a police inquiry.
Parts of the dead bird's body were discovered along a path next to the River Stort in Harlow, Essex.
It was left in public view on Saturday afternoon in an area used by families, police said.
Insp Paul Maleary said: "This is a very disturbing occurrence and it is an offence for any person to kill a swan. Swans... are a protected species."