Basildon homes flood after water pipe bursts 'again'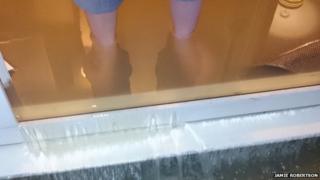 Up to 40 homes have been affected by flooding after a water main burst for the second time in five months.
Essex Fire Service said water levels reached 1ft (30cm) deep when the first reports of flooding in Honeypot Lane, Basildon, came in at 04:00 BST.
Firefighters tried to divert water away from properties as engineers turned off the supply.
Some homes have now been flooded twice. Essex and Suffolk Water apologised to those affected by the disruption.
Resident Kathleen Allen said her property was flooded on New Year's Eve and her replacement carpets were fitted just four days ago.
A spokesman for Essex and Suffolk Water said although the mains pipe was the same one that burst five months ago it was in a different place.
"We have been doing work since New Year and we have renewed certain sections but we have moved the weakest point."
Of the 40 properties affected, 12 were flooded inside, a few others were flooded in their gardens and the remainder had lost water supply.