Brentwood M25 fire sent smoke across motorway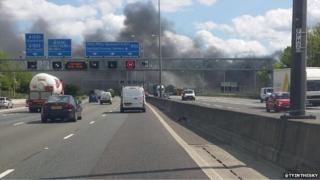 Smoke from a fire at an industrial site blew across the M25, affecting the visibility of drivers on the motorway.
The fire at Brook Street in Brentwood, Essex, involved a caravan, cylinders and a number of diesel storage units.
Motorists on the M25 described and tweeted pictures of thick black smoke billowing across the motorway at Brentwood.
The fire service said the fire had been started accidentally and had been put out.