Ashley Woolley murder: Father describes watching CCTV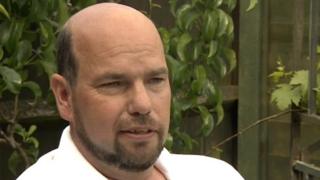 The father of an 18-year-old murdered by a fellow student has spoken of the moment he watched his son being stabbed on CCTV.
Steven Davenport, 18, admitted killed Ashley Woolley in Oaklands Park, Chelmsford, in December.
Trevor Woolley said he saw the footage showing the moment Davenport ran up to his son and stabbed him in the neck and chest.
He agreed it was terrible to watch, but is glad he knows exactly what happened.
Davenport, 18, of Hillside Grove, Chelmsford, had denied attacking Mr Woolley, but changed his plea on Wednesday at the city's crown court. He will be sentenced in July.
'Fantasy of murder'
Mr Woolley, who was studying business at Chelmsford College, died in hospital after the attack on 18 December.
Trevor Woolley said he was wrapping Ashley's Christmas presents when he got a call from his other son Paul that Ashley was dead.
"I'm still waiting for him [Ashley] to ring the phone and go, 'I'm only joking dad'. It's just been one horrible nightmare," he said.
"Ashley had befriended him [Davenport] because he was a bit of a loner of the class.
"We know that his killer for a long time had a fantasy of murdering someone.
Mr Wooley agreed the CCTV footage had been "terrible for a parent to see", but it had reassured him his son had been completely innocent.
"It was [terrible], but it's good in a sense we can tell, we saw it, we saw him go up behind him and Ashley was nothing to do with it."