Darren Kelly murder: Victim kept images of young people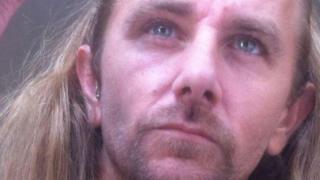 The victim of an alleged vigilante gang murder "kept images of people wanting to lose their virginity", a jury heard.
Darren Kelly, 42, from Basildon, Essex, was kicked, punched and stabbed to death near his home last October.
A group of four denies his murder and is currently on trial at Chelmsford Crown Court.
Karim Khalil QC, representing the now 16-year-old girl accused of luring Mr Kelly to his place of death, said "there was no plan".
The jury had earlier been told there was no evidence Mr Kelly was interested in under age girls.
But Mr Khalil said he had used "at least four aliases" when using the "Whispr" messaging system and on one occasion had pretended to be the daughter of a former partner, whose image he attached to a message.
The jury was told Mr Kelly had complained "all females on Whispr are young" and did not want to talk to him when they knew his age.
"He knew the sort of people and he was bothered when they don't want to talk to him," Mr Khalil added. "He kept images of people wanting to lose their virginity."
The court also heard how Mr Kelly had driven alone to the meeting point with the then 15-year-old girl, who had previously arranged to meet two men she befriended online in the hope they would be arrested.
After getting out of his car he passed the girl once before coming back and began speaking with her, the court heard.
"He knew who he was there to meet, he knew her sort of age," said Mr Khalil.
Chris Carroll, 20, of Pevensey Close, Pitsea, along with two 17-year-old boys and the girl, who cannot be named for legal reasons, all deny murder.
The trial continues.