Gordon Wilson death: Cause of ex-headmaster's death unclear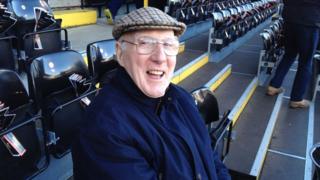 The circumstances around the death of a former headmaster remain unclear, a coroner has ruled.
The body of Gordon Wilson, 82, who had vascular dementia, was found in January three months after he went missing from his home in Leaden Roding, near Dunmow.
Mr Wilson, who had been a headmaster at Shawlands Academy in Glasgow, moved from Scotland to Essex 11 years ago.
Senior Essex Coroner Caroline Beasley-Murray recorded an open verdict in the case.
When Mr Wilson went missing in October 2015, many of his former pupils used social media to try to find him.
It was thought at the time that he might have used his national bus pass to head back to Scotland.
The inquest heard how Mr Wilson's body was found by a farmer's wife on 25 January in a wood in Sible Hedingham, about 20 miles from his home.
'Character'
The pathologist who carried out a post-mortem examination could not ascertain a cause of death because Mr Wilson's body was too decomposed.
Mr Wilson's two daughters, Lesley Rankin, 55, and Gillian Wilson, 50 - who had joined the police search for their father - were at the inquest in Chelmsford.
They said more support should be given to the families of dementia sufferers.
Afterwards, they said Mr Wilson had only been diagnosed with dementia two weeks before he disappeared.
They said doctors did not explain clearly to them what his symptoms could involve.
Det Insp Jim White, from Essex Police, said there were no suspicious circumstances.
Mrs Beasley-Murray expressed her condolences to Mr Wilson's family, adding: "He sounded a delightful gentleman, full of character."