Drowned Jaywick kayaker 'tried to swim back'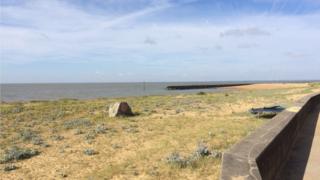 An angler has told how he saw a kayaker drown off the Essex coast while he was getting ready to swim out and help him.
The 21-year-old local man is believed to have fallen out of the craft at Jaywick, near Clacton, on Sunday afternoon.
The kayak was found washed up on the rocks.
Essex Police said the body was recovered by the coastguard just before 22:00 BST. His death is not being treated as suspicious.
LIVE: For more on this and other Essex stories
"He was trying to canoe against the tide race," said Grant Scott, who was angling at the time.
"I had my back towards him and then my sister said he had got out of the canoe. He tried to start swimming back.
"I raced across the top of the rocks but I knew I couldn't make it with my clothes on so I started stripping off... By the time I had my clothes off he had gone under.
"He was trying to swim against the current. And you can't do that.
"Seeing him go like that it was tragic. If he had held onto the canoe he would probably have been there long enough for the lifeboat."