James Whale: BBC Essex breakfast show host in Celebrity Big Brother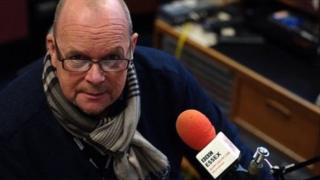 A BBC local radio presenter is taking unpaid leave to appear in the Celebrity Big Brother house.
James Whale, who hosts the BBC Essex breakfast show, entered the Channel 5 reality television show on Thursday evening.
Whale, 65, formerly of Talksport, said he was "excited" to be taking part and looking forward to having a "lie-in".
"We expect James back on the breakfast show on 5 September," BBC Essex Managing Editor Lou Birt said.
"His friends and colleagues at BBC Essex wish him lots of luck."
Whale, who also worked for LBC radio, will initially be replaced by Kath Melandri between 06:00 and 09:00.
He said: "I'm excited to be taking part in Celebrity Big Brother and getting to know all the characters in the house. At least I get a lie in from the breakfast show for a while."