Man has 'Gimp Man of Essex' tattooed on his leg for charity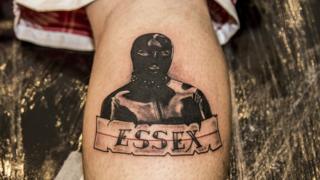 A baker has had a picture of the "Gimp Man of Essex" - a man who goes out in public dressed in head-to-toe latex - tattooed on his leg for charity.
Lee Ross, 42, from Colchester, Essex, decided to get inked after seeing a Facebook post asking if any fans of Gimp Man would consider doing so.
Gimp Man rose to prominence after he started appearing in public to raise money for Colchester Mind in 2014.
"Lee's taken quite a step. He's a walking advert now," Gimp Man said.
Gimp Man - whose identity is kept secret - gives £1 to the charity every time someone takes a picture with him when he is out in public.
He donated £50 after Mr Ross had the tattoo done, and a number of other donations have been made as a result of the inking.
"It's a big brave step, and I'm really thankful for his help in raising money," Gimp Man told the BBC.
Mr Ross said his wife and children were "used to the madness I get up to".
"I can live with doing crazy things if in some way it's helping someone out," he said.
"It's a great-looking tattoo - the detail is fantastic, and when it's healed it will look better."
Tattooist Nicola Baran offered her services after seeing Gimp Man's Facebook post and put together the design herself.
"It took about two and half hours to do," she said. "The most difficult part was the face as it was small, so it was tricky to get the detail in there.
"I think it's exciting to do something different. Often people have the same designs over and over again, so it was fun to do something out of the ordinary."