Teen jailed for eight years over South Ockendon station acid attack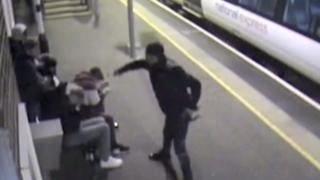 A teenager who threw industrial-strength drain cleaner over a group of friends, leaving some of them permanently scarred, has been jailed.
The "vicious and cowardly" attack on the five boys aged 16 to 18 happened at South Ockendon station in Essex in May.
One of the group was left with potentially life-changing eye injuries.
Alexander Bassey, 17, admitted five offences involving grievous bodily harm and has been jailed for eight years at Basildon Crown Court.
British Transport Police said Bassey, of Maplestead Road, Barking, east London, had "no apparent motive for the attack and showed absolutely no remorse when questioned".
"The teenage defendant in this case went out that evening with a bottle of highly corrosive industrial strength drain cleaner with the clear intention of harming someone," said Jason Corden-Bowen from the Crown Prosecution Service.
"All five victims suffered facial burns and some have been left with permanent scarring as a result of this senseless attack."
Reporting restrictions have been lifted on identifying Bassey.