Essex estate agent's nuclear impact zone joke 'poor taste'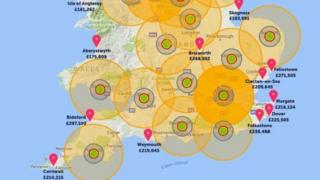 An estate agent's bid to highlight the best spots for property "outside a nuclear impact zone" has been lambasted as being in poor taste.
Its press release included a map of blast impact radiation radiuses around the UK in the event of a nuclear war.
It was labelled as "the worst press release ever", by a Times journalist.
Russell Quirk, from Essex-based online agent eMoov, apologised for any offence, but said it was "completely tongue in cheek".
The agent's press release referred to tensions between North Korea and the US, commenting people might be worried about "World War Three kicking off".
"Donald Trump and Kim Jong-un are a pair of clowns, frankly, and they're acting like jokers," Mr Quirk, of the Brentwood-based agency, said.
"And on that basis, we thought we'd put out something tongue-in-cheek to show our satirical, humorous side."
An assistant editor at The Times, David Byers, tweeted screenshots of the release and commented: "Genuinely in shock! Who could have imagined this press release was a good idea??"
"We're all a bit shocked at the poor taste of your latest press release," commented another Twitter user, while Mike Winter said he hoped their business "suffers a nuclear winter too".
Other users, such as Dan Tury, saw the release as "a joke, [a] bit of harmless fun" and asked people to "get a grip".
Tension between the US and North Korea have escalated rapidly in recent weeks after North Korea tested two intercontinental ballistic missiles in July.
It was further angered by a subsequent UN decision to increase economic sanctions against it and there has been fiery rhetoric from both countries.
US Defence Secretary James Mattis has said the US still hopes to solve the North Korea crisis using diplomacy, noting war would be "catastrophic".