'Dirty Argies' tweet councillor faces no further action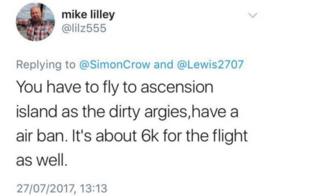 A councillor in charge of public safety who referred to "dirty Argies" in a tweet will face no disciplinary action.
Colchester Borough Council investigated tweets made in July by Labour member Mike Lilley following a complaint.
The council's cross-party Governance and Audit Committee decided that Mr Lilley made the comments in a personal rather than council capacity.
But Conservative councillor Beverly Davies told the meeting the post showed a "deep-seated prejudice".
Live: For more stories from across Essex stories
Mr Lilley, who is the council's portfolio holder for public safety and licensing, said his mother was a Falkland Islander and that he had picked up the derogatory phrase from her following the Argentine invasion of the islands in 1982.
He said: "I have never met an Argentinian and I certainly do not hate them or anyone else for that matter.
"My mum did because of what happened during the war... she never forgot what they did to her family."
Mr Lilley has since deleted his Twitter account.
'Expressed remorse'
Mrs Davies lodged a formal complaint about the tweet, which also spoke of the high cost of flights to the Falkland Islands.
Fellow Labour member Julie Young said Mr Lilley was genuinely remorseful and called the tweet "a lapse in judgement" as reported in the Essex Gazette.
She added: "I would ask the committee to consider the matter and take no further action.
"No one will be harder on Mike than Mike himself."
Lib Dem council leader Paul Smith said: "He has expressed remorse and regret for his actions immediately. This is something which should end immediately."
The council is to review its code of conduct procedures next month.