Essex baby died after three operations delayed, inquest heard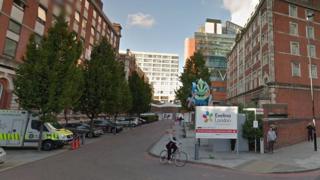 A baby died after a potentially life-saving heart operation was delayed three times, an inquest has heard.
Iris Day, who was born with a heart defect, died a week before scheduled surgery at Evelina London Children's Hospital - part of Guy's and St Thomas' NHS Foundation Trust.
An operation on the six-month-old, who also had Down's syndrome, had been cancelled for various reasons on three occasions.
The inquest is set to last two days.
Essex Coroner's Court was told Iris Day died on 2 December 2016.
Operations had been cancelled at the start of November as Iris, whose family live in Great Braxted, Essex, had a viral infection and the risks of surgery were deemed too high.
'Lack of beds'
Marilyn McDougall, a paediatric intensive care consultant at the Evelina hospital who investigated the cancellations, said the first delay was when Iris was "unwell and in intensive care" with a viral infection.
The next cancellation on 25 November was due to a "lack of intensive care beds".
Regarding the third cancellation, on 30 November, Ms McDougall said: "There was another emergency case that day. Unfortunately that child on intensive care was critically unwell."
She said cancelled operations were "unfortunately much more frequent than we would like" with 120 this year to date.
'Deteriorating condition'
Iris was admitted to Colchester Hospital on December 2 with breathing problems and died later that day as a result of her unrepaired heart defect.
The family's lawyer Farrah Mauladad asked a series of medics from Colchester Hospital about Iris's care at the hospital.
Bhupinder Sihra, a paediatric consultant, said Evelina hospital was not contacted about her deteriorating condition.
He told the inquest: "I didn't ask one specific doctor to do it and that was an error on my part."
The inquest continues tomorrow.