Google error sees picnickers in Bradwell on Sea driveway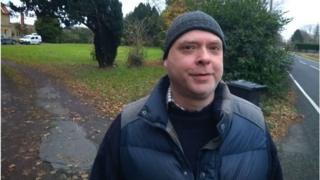 A man whose driveway appears to be listed as a public road by Google says delivery drivers park there and people stop there for picnics.
Jeremy Macbean said he noticed the issue with his Bradwell on Sea driveway about five years ago.
"When people find themselves on it they seem have a sense of entitlement because their mobile phones tell them that it's a part of the road," he said.
Google said it is investigating the issue.
When the BBC checked on Wednesday, the driveway was still marked as being part of Maldon Road - though did not come up in Google StreetView.
"The biggest problem is lorry drivers," said Mr Macbean, whose driveway is a crescent shaped road off Maldon Road.
"I guess because they're stressed when they realise they're stuck here, sometimes they get a bit shirty with me and wave their mobile phones in my face as though it's my fault."
Mr Macbean said he had contacted Google several times - but drivers continue to use the road as a public highway.
"I get ramblers coming through, they're not too much of a problem and tend to walk off apologetically quite quickly," he said.
Google said its maps used data from more than 1,000 sources but admitted there could occasionally by inaccuracies.
A spokesman for the tech company said: "We're working to fix this. We regularly update the map, and anyone who sees an error on Google Maps can report it directly using the 'Report a Problem' tool, found at the bottom right corner of the map."
The Ordnance Survey said: "Within our data the driveway appears as 'private road: restricted local access'."