Corringham man in coma after Caribbean fall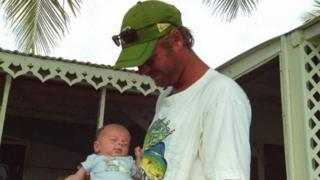 The sister of a father-of-two, who is in a coma after a fall in the Caribbean, says her family faces a medical and transport bill of tens of thousands of pounds to get him home.
As first reported by Essex Live, Kurt Russell, 32, fractured his skull while helping a friend move house on Sint Maarten.
Mr Russell was uninsured, but has had an operation in the Cayman Islands.
His sister Tyla Russell says the bill is about $70,000 (£50,000).
Mr Russell, from Corringham, suffered a skull fracture and a bleed on the brain after the three-storey fall on the Dutch dependency on Wednesday.
Mr Russell, whose children live in England, spends about half his time in the Caribbean running angling tours.
"He was helping a friend move and somehow lost his footing, reached out to grab the balcony rail and tumbled to the floor," said Ms Russell, who lives in Welywn Garden City.
She said the medical centre on Sint Maarten's had put her brother into a coma, but they were not capable of carrying out the necessary surgery.
The advice on Sint Maarten was for him to be treated at the private Health City hospital on the Cayman Islands and he was flown 1,200 miles (2,000km) to get there on Saturday.
'Begged and borrowed'
"We got the phone call on Thursday and went into a panic. We have been scared for his life," said Ms Russell.
"My mum and dad have begged or borrowed about £35,000 on credit cards or from friends and my dad thinks he might have to sell his house," she said.
The family has set up a JustGiving page for his ongoing treatment and his eventual flight back to the UK.
Health City confirmed it was treating Mr Russell. His sister said he was still in a coma, on life support and in a critical, but stable condition.