Essex and Suffolk Water van driver gets stuck in water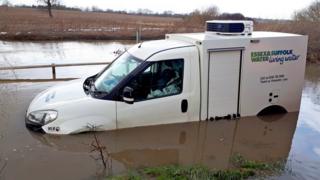 A water firm driver ended up having to flee his vehicle after becoming stuck in floodwaters.
The Essex and Suffolk Water van got stuck in about 4ft (1.2m) of water at Buttsbury Ford near Billericay on Monday afternoon.
A spokesman for the water company said it was aware of the incident and said its driver was "OK" following the episode.
Stephen Owens, of Billericay, spotted the van while out cycling in the area.
He said the ford was part of his regular cycling route and he told how he had often seen vehicles trapped there over the years.
"But I have never seen one like this," he said.
Mr Owens said when he arrived the driver was still trying to get out of the van before asking him to try and help him push it out of the waters.
Despite their efforts, the van could not be moved by hand, he said.
It is not yet known whether the driver was on a call-out at the time of the incident.
A company spokesman said: "Thankfully the driver is unharmed and we are making arrangements for the vehicle to be safely recovered as quickly as possible."