Craig Davis guilty of misconduct over hoax bomb note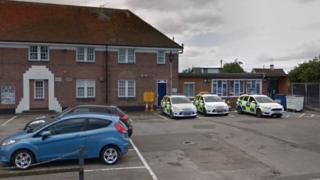 A former police officer has been found guilty of gross misconduct in connection with a hoax bomb note.
PC Craig Davis, of Essex Police, was linked to the note after a DNA database was searched, a misconduct panel heard.
The note, warning of an explosion, was fixed to a fast food restaurant in London and referred to the neo-Nazi group Combat 18.
Mr Davis was "inconsistent" when questioned, and breached honesty and integrity standards, it was decided.
Mr Davis, who was based on Canvey Island, did not contest or attend the misconduct hearing at Harlow Magistrates' Court.
He joined Essex Police in 2004 but resigned in February and the panel's decision was that he would have been dismissed.
'Repeatedly inconsistent'
Essex Police said DNA linking PC Davis to the handwritten note in November 1999 came to light following a "speculative search" of the Centralised Elimination Database, which holds DNA profiles from police officers and staff.
He was arrested and questioned by the Metropolitan Police in March 2017 but signed a statement denying any involvement.
Ch Supt Rachel Nolan, the senior officer who sat on the misconduct panel, said: "PC Davis was repeatedly inconsistent about his knowledge of Combat 18 or writing the note, calling his honesty and integrity into question.
"While no information or evidence was found to specifically indicate PC Davis was ever an active member of Combat 18 or had any involvement in right-wing extremist activity, his actions have fallen well short of the standards we demand..."
Mr Davis had also faced one count of discreditable conduct, but that was found not proven.