Charges after Essex drugs police find caiman during house search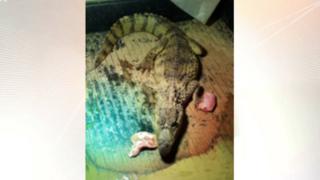 A man has been charged after a 4ft-long spectacled caiman was found by police during a drugs investigation.
The reptile was discovered along with 16 live snakes, among them cobras, copperheads and pythons at a home in Westcliff, Essex, in January.
Lee Thompson, 36, from Basildon, has been charged with drug and animal-related offences including breaching a ban on keeping a dangerous wild animal.
He is due to appear at Basildon Magistrates' Court on 6 April.
Mr Thompson, of Napier Close, has been charged with:
Two counts of breaching a ban on keeping a dangerous wild animal
Two counts of causing unnecessary suffering to a protected animal
Two counts of keeping a dangerous wild animal other than under the authority of a licence
Being concerned in the production of cannabis