Lottery winner celebrated £9.3m jackpot with tea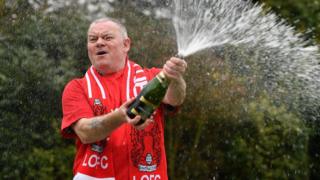 A football fan celebrated his £9.3m Lottery jackpot with a cup of tea - after needing help to see he had won.
Paul Long, from Wickford, Essex, initially thought he had won £9,000 until a friend texted him to say: "I'm not being funny, you've won £9m."
He rang the Lotto helpline to ask "Is this a scam?" before opening a bottle of beer and then thinking: "You know what? I need a cup of tea."
The 55-year-old plans to use the money to help his three adult children.
But he said: "I'm not going to make them millionaires. I think they should learn the value of things."
He bought the Lucky Dip ticket after deciding his club Leyton Orient's 3-0 win over Woking on Saturday was a lucky omen.
But he has no plans to invest in the non-league club, which he has supported since he was 11 and whose major investor is Texas multi-millionaire Kent Teague.
"What I've won, Kent Teague probably thinks is a tenner. I cannot afford to lose money - as quick as I've got it, it will go," he said.
You might also like:
He found out about the win after an email from Camelot on Sunday morning - but he only had £3.90 in his lottery account.
"Then I saw another message which I thought was congratulating me on a £9,000 win and to call the number on the screen," he said.
"When I called I think I must have misheard the lady on the line because she congratulated me on a jackpot win and while she confirmed a £9m win, I think I must have still been in denial as I still thought it was £9,000."
After his friend assured him he had indeed won - and a celebratory cup of tea - former Ford car worker Mr Long, who has been out of work for the past 11 months after injuring his Achilles tendon, went out and bought a new car.
"I have to admit it's been a crazy few days and it's only been in the last 24 hours that I have dared to believe it's real," he said.