Bouncy castle that killed Summer Grant 'packed away'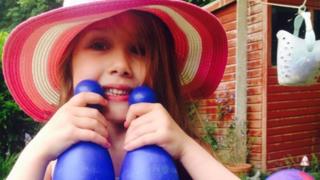 A bouncy castle which blew across a fairground killing a seven-year-old girl was loaded into a trailer before police arrived, a court heard.
Summer Grant, from Norwich, died after being inside the inflatable at the fair in Harlow, Essex, on 26 March 2016.
Fairground workers William Thurston, 29, and his wife Shelby Thurston, 26, both deny a health and safety offence and manslaughter by gross negligence.
Chelmsford Crown Court was told they failed to "adequately anchor" it.
The pair, of Whitecross Road, Wilburton, Cambridgeshire, also did not monitor the weather to ensure the inflatable was safe to use at the Easter fair in 2016, prosecutors said.
Summer had been visiting the event at Harlow Town Park with her father Lee and other relatives.
Witness Kyle Ramm had been working at Pets' Corner city farm, on the edge of the park, when he saw the bouncy castle tumble down the hill.
"It was flipping and spinning as it bounced, at least the height of an adult down the hill towards our sheep paddock," he said in a statement.
Fair workers 'chasing'
It then hit a fence and a tree "with some force as it had snapped a branch".
"I could see there were people from the fair chasing after it," he said.
He saw one of them unzip the castle, go in and come out with a girl, the court was told.
They then put her in the recovery position before shouting for an ambulance to be called.
He said the bouncy castle was soon "totally flat".
Officers 'cross'
"I saw people from the fair had started to load the castle up on to a trailer," Mr Ramm said.
"Shortly after the castle was removed, police arrived and appeared to be cross that the castle had been moved.
Officers then started cordoning off the area with tape, the court was told.
Mr Ramm's colleague Tommy King told the trial a "truck-type car" came and "probably about half a dozen" people packed the inflatable away.
Visitor Ben Mansfield said it was a rainy day and before the bouncy castle blew away he saw an inflatable slide being taken down.
"It looked like it was being done in quite a hurry".
The trial continues.