'Wind warning' on day of bouncy castle death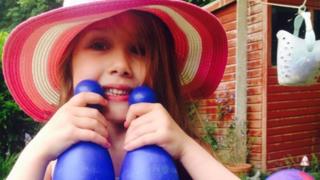 A weather warning was in place the day a bouncy castle blew across a fairground killing a seven-year-old girl, a court has heard.
Summer Grant, from Norwich, died after being inside the inflatable at the fair in Harlow, Essex, on 26 March 2016.
Fairground workers William Thurston, 29, and his wife Shelby Thurston, 26, both deny a health and safety offence and manslaughter by gross negligence.
Chelmsford Crown Court heard evidence from meteorologist Dr Richard Wild.
He said a Met Office yellow weather warning had been in place from two days before the incident, the day before Easter Sunday in 2016.
A yellow warning is the lowest of the Met Office's three alerts - yellow, amber and red.
Dr Wild, who is credited on Harry Potter films as their weather consultant, said he analysed forecast data from the time.
"I concluded that the gusts in the area at that time were, I believe, 35-40mph," he said.
"That was within the hour of the actual incident."
'Violent wind bursts'
David Kerr-Sheppard, the air ambulance pilot who flew to the incident, said conditions were "squally".
Asked what he meant by this, the chief pilot of Essex Air Ambulance said: "My interpretation would be sudden, sometimes violent bursts of wind that could easily change direction and it's generally affected by strong, very active cloud activity."
He said the weather was not suitable to fly Summer to a London hospital, and she was instead taken by ambulance by road to Princess Alexandra Hospital in Harlow.
Prosecutors say that the Thurstons, of Whitecross Road, Wilburton, near Ely, Cambridgeshire, failed to ensure that the bouncy castle was "adequately anchored" to the ground and failed to monitor weather conditions to ensure it was safe to use on Easter Saturday in 2016.
Summer, from Norwich, had been at the fair with her father Lee Grant and other family members.
The trial continues.