Harwich Electric Palace cinema gets £650,000 funding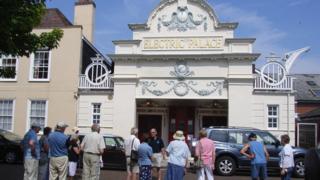 One of the oldest cinemas in the country is going to close for nine months after being awarded £653,000 to secure its ceiling.
The money for refurbishment work at the Electric Palace in Harwich is coming from the Heritage Lottery Fund.
David Looser, chairman of the cinema, said: "Insurers were taking a cautious view about the safety of ceilings.
"It follows incidents elsewhere in the county where chunks of plaster were falling down."
He said there had been no mishaps at Harwich, but plaster had fallen off a theatre ceiling in London, injuring 76 people in 2013, and much smaller pieces of plaster fell from Ipswich's Regent Theatre in 2011, when no-one was inside.
The Electric Palace opened on King's Quay Street in 1911, closed in 1956 and the Grade II-listed building reopened in 1981.
Mr Looser said: "We've currently got a safety net under our ceiling.
"Elsewhere, the cinema has got a little tatty and hasn't been redecorated since we restored it in the 1970s, so it needs doing."
The restoration work will be carried out by Ipswich-based firm Nicholas Jacobs Architects.
The money will also be spent redecorating the auditorium, refurbishing its 199 seats and toilets, replacing electrical equipment and enlarging the stage.
Because the cinema will be closed, the trust is planning on setting up a cinema-in-a-tent "Bioscope" on Harwich Green for the Harwich Festival, which runs from 21 June to 1 July.