Missing cat Simba found near Colchester Zoo lion house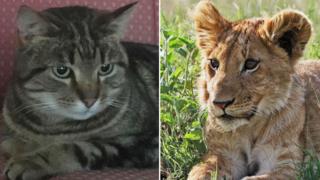 A cat named after the Lion King film character Simba has been found seven months after going missing - near Colchester Zoo's big cats enclosure.
The tabby was spotted trying to catch birds of prey close to the lion house.
Owner Raymond Bateman thinks his pet had been living at the zoo, four miles from home, for at least a month, as the Colchester Gazette reported.
He said the cat disappeared after they began building an extension, as it was not feeling the love for the noise.
The family pet had always been shy and frightened of visitors, so the disruption caused by the builders was a bit much for the sensitive moggy, and it left.
The Batemans put up posters but there were no real sightings of the five-year-old microchipped puss, "although someone did say they saw a cat at Colchester Zoo a couple of months ago," Mr Bateman told the BBC.
The zoo is a favourite place for the family to visit, but they had never taken their cat there.
However, Simba seemed keen to live up to its name and mix with the other kings of the cat world.
"We got a call from the zoo on Thursday to say he had been seen hanging around the birds of prey, trying to catch them close to the lion enclosure," said Mr Bateman.
The cat was scanned and returned home.
Zoo curator, Clive Barwick, said for some time staff had been "aware of Simba's presence but he had always steered himself away from direct contact with anyone that approached him", but they were "delighted" to have found his owner.
Mr Bateman said: "He's got a few scratches on his nose and ears, and was like a different cat when he came back.
"For a while he was very brave, but now he's settled into his old ways, hiding under the bed if anyone comes round."