Gloucester's Blackfriers' arts quarter scheme confirmed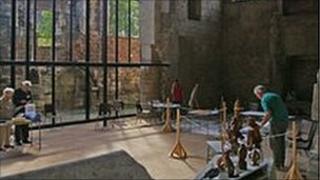 Final funding has been confirmed for the refurbishment of Gloucester's historic Blackfriars Priory.
English Heritage will provide about a quarter of the £700,000 cost of the project.
The work will include a new public space and concert hall in the north and east ranges of the medieval priory.
The biggest grant-provider is the South West Regional Development Agency which said it might be their last investment in Blackfriars due to government cuts.
Head of regeneration, Chris Foley, said: "The opening up to the wider public of the ancient medieval priory as a cultural venue is a pivotal point in the wider regeneration of Blackfriars and Gloucester's city centre.
Broader appeal
"The local community and visitors alike will benefit from new uses in this historic and largely unknown building.
"This will broaden Gloucester's appeal to businesses and investors considering locating and investing in the city."
Chris Oldershaw, chief executive of the Gloucester Heritage Urban Regeneration Company, said: "With this financial support confirmed, we are starting to talk seriously with the investors which have already approached the GHURC informally expressing their interest in the area."
Experts have been researching and recording the site's heritage over the last four years and public consultation has been carried out to help plan for the area's regeneration.
It is the second project to be confirmed at Blackfriars this year.
Demolition of the SWRDA's former "Clutch Clinic", next to the east range, is now taking place to make way for a new language immersion centre, due to open by September 2011.