Police seal off danger building in Gloucester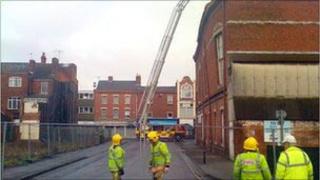 Police have sealed off a Victorian building in Gloucester after it began to collapse.
The roof of Northgate Mansions in Spreadeagle Road is falling in, windows are smashed and the walls are bowing.
Fire crews are at the scene and checks have been carried out to ensure that no one is inside the building - believed to be an empty office block.
An engineer said the collapse was probably caused by the icy weather. The building may have to be demolished.
'Dangerous condition'
Council building control officer Colin Boughen said: "The building is in such a dangerous condition, there is nothing you can really do but demolish it.
"The roof's gone, the back wall's gone, the front wall is 2ft (600mm) out of plumb."
He said the owner was travelling to Gloucester from Southampton to make a decision on the fate of the red-brick building.
No vehicles or pedestrians are being allowed to walk around or past the structure for their own safety, police said.