Gloucester children's charity stock lost in demolition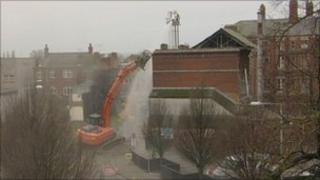 A Gloucester charity has lost most of its stock after part of a building it used had to be demolished.
Northgate Mansions in Spreadeagle Road was sealed off on 30 December when it began to fall down.
A wing was later demolished and a store room containing toys, prams and children's clothes belonging to the Life Care centre was destroyed.
"We've lost two-thirds of our equipment which is devastating," said spokeswoman Bernadette Padfield.
The charity had been unable to get into part of the Victorian building to retrieve its equipment because it was no longer structurally safe.
"Our counselling service and care centre is still running but we now have to find somewhere else to store the equipment," Ms Padfield added.
Engineers said they believed the collapse was due to the icy weather in December.