Disabled residents cannot reach new Berkeley post box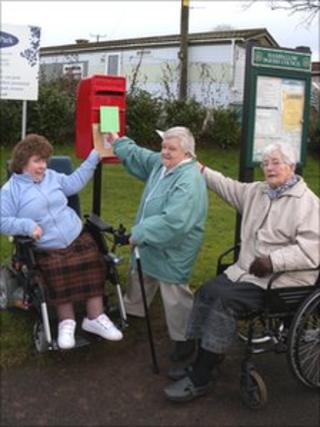 Some residents at a static home park in Gloucestershire say they cannot reach a newly-installed Royal Mail post box.
The red box, with a slot which stands at 5ft 5in (1.7m), is at the entrance to Berkeley Vale Park where a number of disabled and elderly people live.
Resident Hubert Jackson said wheelchair and mobility scooter users "just can't reach it to put their letters in".
Royal Mail has apologised and said it would see if the box could be made more accessible.
Mr Jackson's wife Penny, who uses a wheelchair, said she could access the previous box "but now it has grown some inches I can't get to the hole".
"I'd like Royal Mail to come round and lower it to its original height when it was on the old post," added Mr Jackson.
A Royal Mail spokesman said: "We are looking into this particular case as it would appear that the new box has been set back a little from its old position on the grass verge and that may have made it more difficult to reach."