Microlight pilot in Australia bid 'died accidentally'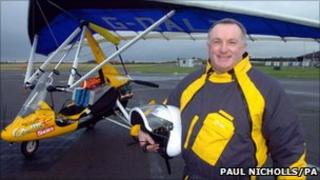 A microlight pilot who was killed two hours into a charity flight died accidentally, a coroner has ruled.
Martin Bromage, 49, from Stonehouse, set off for Australia from Gloucestershire Airport on 18 January last year.
However, contact was lost while he was over the English Channel. His body was recovered later that day.
The inquest in Cheltenham heard mechanical failure could not be ruled out as no wreckage was ever found.
Deputy Gloucestershire coroner David Dooley said that the cause of the accident would never be known for sure.
'Adverse weather'
Mr Bromage, a tree surgeon, had hoped to complete the 11,000-mile (17,702 km) trip to Sydney in six weeks.
The father-of-two wanted to raise £150,000 for Help for Heroes.
His body was recovered from the sea off the coast of France, near Boulogne, on the night of 18 January.
A post-mortem examination revealed Mr Bromage died of a large number of severe injuries.
The hearing was told the injuries would have been instantaneously fatal.
Kenneth Fairbank, from the Air Accident Investigation Branch (AAIB), told the inquest Mr Bromage had encountered deteriorating weather conditions over the English Channel.
He said French radar had picked up his aircraft manoeuvring in a way consistent with attempts to avoid the worst of the weather.
In November, an AAIB official accident report said Mr Bromage probably lost control after encountering poor weather conditions.
Recording a verdict of accidental death, Mr Dooley said: "We have heard evidence that it was a relatively new aircraft and had been flying for two hours with no problems reported at the time that contact was lost.
"He was an experienced helicopter and microlight pilot with approximately 500 hours of flying and had been across the Channel on several occasions in the past.
"Radar contact was lost at 12.55pm and he is believed to have crashed within minutes of contact being lost, having sent out no distress signal.
"We cannot exclude mechanical failure one way or the other because we do not have the wreckage.
"All the evidence points to a loss of control in the adverse weather. I feel that the weather was the more likely than mechanical failure for the cause of this tragic death.
"Even if we had evidence of a mechanical failure it would not change the verdict and the appropriate verdict is that Martin Bromage died as a result of an accident."
In 2009, Mr Bromage flew unsupported from Gloucester to Lagos in the Algarve.
His other interests were motorcycling, scuba diving, white water kayaking and mountaineering.