Stroud campaigners demonstrate against cuts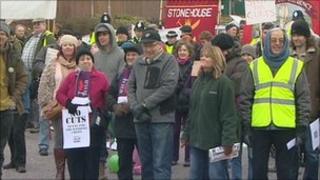 Campaigners have taken part in a demonstration against cuts in Gloucestershire.
About 200 protesters gathered in Stroud for speeches, a march and a rally against cuts being made to libraries and other community facilities.
Stroud District Council will suffer a 28.6% cut in government funding over two years.
Campaigners are calling on councillors who oppose the cuts to refuse to put them through.
The campaigners also want the councillors to join them and demand more money from the government.
The protest was organised by Stroud Against the Cuts and Gloucestershire Trades Council.
'Quality of life'
Chris Moore, from Stroud Against the Cuts, said: "Our jobs and services should not be sacrificed to pay for a crisis created by the bankers and financiers.
"Money is available if the political will is there to find it."
David Drew, former Labour MP for Stroud, has spoken out against the cuts.
He said: "I really do fear that we're beginning to cut out some of the social fabric of our society.
"We will live to regret this year if these cuts go through as they are currently being proposed because we will lose what I see as some of the reasons we as human beings have developed a quality of life."
'Into perspective'
Conservative MP Neil Carmichael who won the Stroud seat in the last election, said he hoped communities would continue to thrive.
He said: "I don't want to see key front-line services suffering unduly, that's why I've worked really hard to protect for example education budgets, that's why I celebrate the fact that we've got independent budgets for people in need of social care and that includes people with learning disabilities for example.
"We have to get this into perspective.
"Our communities are thriving now and I hope they'll continue to thrive. We're making some changes to legislation to allow that to happen. For instance the Localism Bill is going to be a very exciting opportunity to actually give local communities the power to control their own destiny."
Demonstrations were also held in London and Manchester against raising university tuition fees in England and public spending cuts.