Memorial for Gloucester Rugby Club's Tom Walkinshaw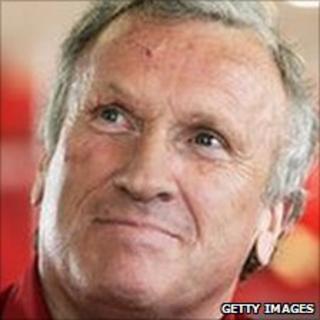 A memorial service for the former Gloucester Rugby Club owner and chairman Tom Walkinshaw has been held.
The former Formula 1 Arrows team chief and ex-racing driver died of cancer in December at the age of 64, having battled the disease for some time.
Mr Walkinshaw, born in Midlothian, bought a 73% stake in Gloucester Rugby Club in 1997, increasing it to 98% two years later.
The service was held at Gloucester Cathedral.
Those present included members of the rugby squad and famous figures from motor racing including Sir Frank Williams, Martin Brundle and Eddie Jordan.
Speaking outside the cathedral after the service Martin Brundle, who drove for Mr Walkinshaw early in his career, paid tribute to him.
"He put me on the map. He gave me a chance when I was a teenager when I asked him out of the blue.
"He was a great driver but quite early on he realised he was even better running a team and building his motor-racing empire, but he was mighty behind the wheel of a racing car, for sure."
Eddie Jordan also paid tribute to Mr Walkinshaw.
"What he achieved at Benetton [when Michael Schumacher won his first Formula 1 world title], that's his legacy, being able to make something really spectacular out of something that wasn't going to be spectacular, he could just make that difference."