Stephen Morris reviews unsigned four-piece Jet-Pack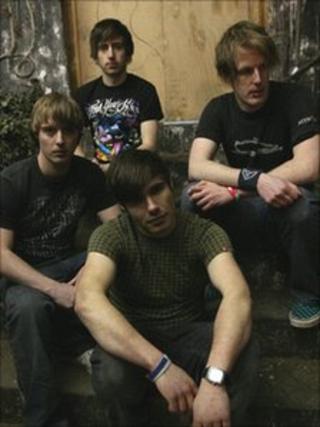 Back in the day, singers like Mick Jagger may have bemoaned the fact that they couldn't get no satisfaction, but at least they did so with a swing in their step and a strut in their impossibly skinny trousers.
Even the kings of misery themselves, Nirvana, managed to convey their disappointment with the world around them through a lively ditty entitled Smells Like Teen Spirit.
Nowadays, miserable lyrics, thoughts and feelings seem to be matched with equally miserable sounding music.
Which should make more sense, of course.
Sometimes the misery of the music even manages to outstrip the misery of the lyrics it supports.
And so a song hinting at a slight feeling of boredom becomes the ultimate anthem to doomed youth.
If I'd had a penny for the number of times I've described a band's music as having a "brooding intensity", I could have bought myself a rather lovely gothic sarcophagus by now.
Maybe I just need to get myself a better thesaurus.
I'd like to blame the Twilight saga - if only to repeat the following anecdote: I recently visited a certain reputable book chain to find that, in addition to the vast quantity of reading matter available, they were selling Twilight themed bandages - the exploitative, and rather sick, implications of which don't really bear too much thinking about.
As I said, I'd like to blame the Twilight saga with all of Edward Wotsit's "brooding intensity", but I think that would be giving Stephanie Meyer more credit than she's really due.
In truth, all this musical angst has been going on for a lot longer.
Locally we can point to the now defunct, but rather wonderful Stone From Delphi.
But there are plenty of other miserable acts, locally, nationally and internationally you could reference.
'Rambling prologue'
Some good; some not so much.
In fact, you could probably take things all the way back to the late eighteenth century with the rise of the Sturm und Drang ("Storm and Stress") movement in literature and music…
But you don't want to know about that, do you. You want to know about Jet-Pack.
Jet-Pack are a four-piece band featuring members from Cheltenham and further a field.
As suggested in the rambling prologue above, Jet-Pack are all about the angst.
And there's much for them to be angsty about: be that political spin, romantic failure or the perils of envy.
The band currently have six songs available on MySpace.
Much of the content considers broad themes of boredom, unrest and unease.
"The only thing that we had left was striving for a better place" (In Transmission) is a typical line.
As is often the case in music of this kind, it's all about the journey to a brighter tomorrow.
But, on occasion, more specific themes emerge.
The clearest of all being the opening track 'All The World's a Stage' which considers the hypocrisy of politicians and others with influence: "change is just a masquerade for more of the same" runs one lyric from the song.
Elsewhere, a cynical view of romance emerges in 'Salt of the Earth' with the line "love is just a life sentence for lust".
It is in these specifically themed songs that Jet-Pack's songs are at their best.
'Pessimistic view'
For the most part though, it is the general sense of ennui that dominates - along with the associated striving for a better future.
And so we find lyrics like "This nightmare's almost over/this dream has barely begun" from 'This Nightmare', or "Hold on to this feeling inside/I'm still trying to find a way out" from 'We All Start Again'.
Sometimes, though the brighter ambitions falter, and we are left with a much more pessimistic view of the future: "Hang my heart around my neck with a noose held down/and draw me down from the clouds and/quarter me" are some of the more graphically gloomy lyrics in 'This Nightmare'.
Meanwhile the capital punishment analogies appear in 'In Transmission' with the line "My life's just passed me by/and my head is on the block again".
Jet-Pack's music is a dense mass of guitars that belies the small number of people creating the sound.
Each track is filled to overflowing with that much talked of (albeit by me) "brooding intensity".
Within this sound, Jet-Pack experiment with various sub-styles.
'Salt of the Earth' and 'Jealousy', for example, give a respective nod to the power chords of 80s rock, much loved of Gloucester acts like Nukchorris.
'Refreshingly sparse'
The exception to all this broodery lies in 'We All Start Again', which exists, in its current form at least as an acoustic demo.
There is every likelihood that one day it will go electric and be produced into a near carbon copy of the music that precedes it.
But for the time being, it's a refreshingly sparse sounding track.
Here, the song features a keyboard accompaniment which slowly builds through but never overpowers the music as a whole.
It is in this stripped back sound that Jet-Pack's music and lyrics are best married together.
Lines like "It's late in the day/there's not many options left" are delivered with a vulnerability that would be missed if the song was anything but the acoustic piece that it is.
There is much to like here in Jet-Pack.
Though the music and themes can, at times, be a little derivative, excellent ideas remain in the form of sharp, perceptive lyrics and a great sound.
And now for something a little less brooding and slightly less intense…