Fifth of Gloucestershire schools 'may lose staff'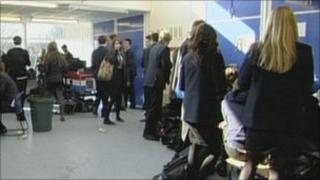 A fifth of Gloucestershire's schools have told the BBC that they could make staff redundant due to spending cuts.
At least 60 schools in the county say they could lose posts in a 1.5% budget cut taking effect in April.
The National Union of Teachers (NUT) says the change will mean larger class sizes and a reduced choice of subjects.
The exact number of staff that could go is not yet known, but headteachers have told the BBC it could involve front line teachers as well as support staff.
John Pemberthy, from the NUT, said: "Most schools will be losing out, particularly those that have a sixth form.
"It will mean fewer subjects taught at GCSE and A-level, which means less choice for students.
"Teachers will have to work harder and there is only so much you can give, it will reduce the scope for planning imaginative and constructive lessons."
He said the union accepts cuts need to be made but wants funding given to academies to be more equitably shared throughout the county's schools.
Ageing population
Gloucestershire County Council told the BBC that its hands were tied as the budget levels are set by central government.
The government says it will protect the national education budget for 2011-12, but the way in which this budget is distributed has changed with some education providers losing out and others gaining.
Gloucestershire's schools have a lower settlement in part due to the county's ageing population and falling number of school age children.
Rising fuel bills and fewer staff leaving their posts, meaning the county's teachers are comparatively more experienced and better paid than elsewhere, have also been cited as reasons for additional costs being faced by Gloucestershire's schools.
Ian Kellie, head teacher of Sir Thomas Rich's School in Gloucester, said his school was among many facing difficult choices.
"About 90% of a school's budgets goes on staffing, so we can't just save money on photocopying," he said.
"We have to look at staffing, either bigger sets, fewer sets, the viability of subjects when demand isn't strong."