High Court battle over Severn Ham land row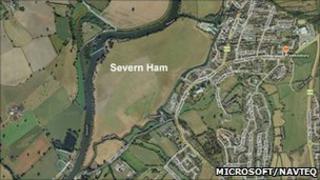 A legal challenge has been mounted in the High Court over the Severn Ham in Gloucestershire.
The site of over 177 acres to the west of Tewkesbury town centre is almost entirely owned by the town council.
But the owner of the Healings Mill, which provides access for vehicles onto the ham, wants the site declassified as common land.
ADM Milling, which owns the unused mill, said it was not seeking to terminate any existing rights of way.
Dog walkers say it is essential to keep the land open.
'Trouble for farmers'
Councillor Barbara Cromwell, from Tewkesbury Town Council, said the area was mainly used by walkers.
"We do get the farmers that come and we get animals on here at certain times of the year, of course all that would have to stop if we'd lose our right of way through the mill.
"Their building is built on the right of way into the ham. You wouldn't be able to bring a vehicle over here which the farmers would have trouble with over the summer.
"They say they are trying to establish the land that they've bought on and the rights... we say if it goes through it will no longer be common land.
"This has been common land since time immemorial and Tewkesbury considers it our ham."
'No loose ends'
Alan Purkiss, Clerk to the Commons, said: "We should just relax and wait for the judge to pronounce his verdict.
"It's not as bad as it seems. Hopefully the judge will make sure there are no loose ends. People shouldn't be overly alarmed and only get excited if the court reduces any public rights."
In a statement, ADM Milling said: "ADM is not seeking to terminate any existing rights of way which may exist over Healings Mill.
"We are unable to make any further comment at this stage in view of the ongoing court proceedings."
A Tewkesbury Town Council spokesman said a judge reserved his judgment in the case on Friday.
He said the outcome may not be known for some time.