Petition launched to save public toilets in Cheltenham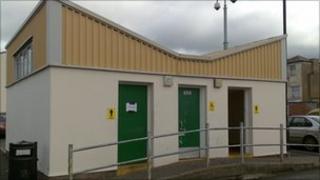 Traders on a Cheltenham shopping street have launched a petition against the possible closure of public toilets.
The Bath Road Traders Association said it believed toilets in the shoppers' car park would be shut from 31 March.
Liz Smith, from food shop Cook, said: "It's not too much to ask those who run our town to provide public conveniences for people to spend a penny."
Cheltenham Borough Council said it was looking for ways to keep a facility open.
Ms Smith added: "A lot of the shops, pubs and cafes along the Bath Road don't have availability for disabled people to gain access to the toilets.
"People with young children aren't necessarily going to want to go into pubs.
"I think people will be quite shy of doing that because they'll feel obliged to spend money."
Councillor Roger Whyborn said: "We are aware of these concerns and are working with the Bath Road traders to find possible solutions to keep a facility open which would also be suitable for disabled people."