Gloucestershire mother of five needs Lent for quietness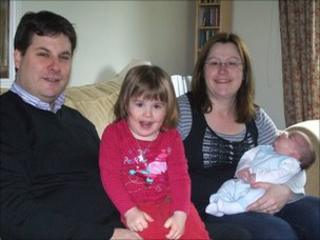 A busy Gloucestershire mother-of-five has said that for her Lent is a time of re-focusing and spending time with God.
Lucy Axon from Gloucester only gave birth to latest child Toby five weeks ago but recognises this period as a time to "stop and reflect".
"Life is really hectic so time with God is precious and doesn't happen as often as I'd like," she said.
Lent is a 40-day season of reflection and preparation for Christians before the celebrations of Easter.
Whilst juggling motherhood and life married to Andrew who is the vicar of St Phillip and St James in Hucclecote, Lucy is committed to using this period to "try and focus" on God.
The Axon family can be heard throughout Lent with Richard Atkins on BBC Radio Gloucestershire's Sunday breakfast programme, discussing their faith and what Lent means to them.