Arrests on day three of Cheltenham Festival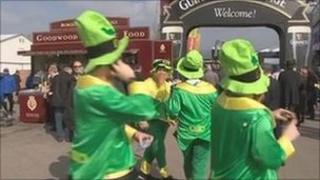 A number of people have been arrested on the third day of the Cheltenham Festival.
A police spokeswoman said Thursday, which saw revellers celebrating St Patrick's Day, attracted tens of thousands of people to the course.
In the afternoon, a man was arrested after he ran on to the course during the Ryanair Steeple Chase. He was fined and removed from the site.
Police said a second man was arrested on suspicion of assaulting him.
The day also saw a man arrested in the South Car Park on suspicion of assaulting a woman.
A pick pocket stole £1,300 in cash, and in another incident, a fake £20 note was seized.
Sent home
The 45-year-old man from Liverpool who ran on to the course was arrested on suspicion of a public order offence.
The police spokeswoman said he was ordered to pay an £80 fine, removed from the venue and sent home.
A driver was also arrested outside the racecourse on suspicion of failing to stop for a police officer and dangerous driving.
Officers received a report of a purse being stolen, which has been recovered with its contents missing.
Later in the evening, two men were arrested on suspicion of assault after an incident in the North Coach Park.
The force spokeswoman said a man was taken to Cheltenham General Hospital with neck and chest injuries that were not believed to be life threatening.
Insp Ian Phillips said: "St Patrick's Day is always incredibly busy at the racecourse with race-goers celebrating the occasion and this year was no different.
"In comparison to the large number of people that were here today, the third day of the festival, the crime levels remain low."
The four-day festival ends on Friday.