Caring for injured horses at Cheltenham on Gold Cup day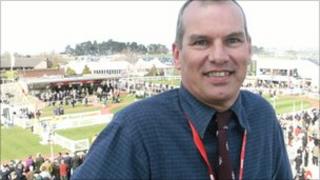 BBC News goes behind the scenes at Cheltenham Racecourse on Gold Cup day with a veterinary surgeon.
Most of the time, David Chalkley deals with the usual domestic animals.
But for 16 days a year, he swaps the cats and dogs of the Dragon Veterinary Centre for the thoroughbreds of National Hunt racing.
Gold Cup day is no exception as he becomes an official racecourse vet.
His role, as part of a team of five, is to care for injured horses out on the track.
"We have vets positioned at various points around the course," he said.
"All the fences in the home straight are covered at the fence, and vets cover the two halves of the course in mobile vehicles."
Fatally injured
A further two vets are on standby in the treatment room to take care of any horse that is injured after it has raced.
Horses sometimes have to be put down after heavy falls, particularly if bones are broken. Lush Life was fatally injured on Thursday at Cheltenham, in the Pertemps Final.
"Our worst nightmare is missing a horse that falls," said Mr Chalkley. "We aim to treat anything on the course as quickly as possible with as little trauma to the horse as possible.
"Ideally we get the screens round as quickly as possible so the public aren't distressed by the sight of an injured horse."
"For us, a good day is when there are no injuries at all. But if a horse is injured it's nice to hear people say 'oh nothing got hurt today' and the public haven't realised it's happened.
"Then we say we've done our job properly and we've done it well. What we don't want is an injured horse galloping in front of 50,000 people."
Dragon Veterinary Centre has provided vets for the racecourse for 80 to 90 years, and David Chalkley has been involved for the last 10 years.
"Everyone else pays to get in [to the racecourse on Gold Cup day] but I get paid to be here," he said. "What a job."