Stroud fire service changes spark protest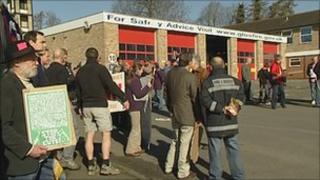 A demonstration has been held outside Stroud Fire Station against planned redeployment of 12 firefighters and changes to rescue equipment.
The Fire Brigades Union (FBU) and Stroud Against Cuts are concerned the changes will compromise public safety.
Gloucestershire Fire and Rescue Service carried out a 12-week consultation with communities and firefighters about the plans.
The county council said the changes would improve response to crashes.
The 12 firefighters will be deployed to Cheltenham and Gloucester in early April.
'Delayed turnout'
A specialist road rescue appliance, which carries equipment for dealing with collisions, will be decommissioned and the remaining pump will have some additional rescue equipment added to it.
A new fire engine with specialist road rescue equipment is expected to be delivered in September.
Mike Tully, FBU brigade secretary, said the rescue appliance that is going had responded to an average of 144 emergency calls per year since 2000.
"'These are potentially life-threatening cuts to the front-line," he said.
"The effect of the changes will mean that fewer firefighters will attend incidents like a road traffic accident, with less equipment.
"The nearest specialist rescue appliances will be based in Cheltenham and Gloucester.
"The remaining whole time pump will be required to respond to road traffic collisions well outside of the Stroud area, leaving just one retained pump with a delayed turnout of around five minutes."
'Quickly and effectively'
But a spokesman for Gloucestershire County Council said the changes would improve response to road traffic collisions across county.
He said: "Over the last six years, the service's road rescue response has improved thanks to investment in specialist cutting equipment at all fire stations across the county.
"This has meant local crews responding more quickly and effectively to road traffic collisions, and now changes at Stroud will improve this response further."
The spokesman added that the changes would mean more firefighters at the scene of every road traffic collision - 10 instead of seven.
He said an engine with road rescue equipment added and crew of five would respond immediately to a collision and another engine and crew of five or six would respond five minutes later.