Surfers ride four-star Severn bore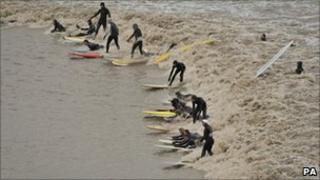 Surfers and kayakers turned out to ride a wave on a four-star River Severn bore through Gloucestershire on Sunday morning.
The surge wave, which ranges from one-star up to five-stars, is caused by the incoming tide being funnelled up the narrowing Severn Estuary.
Similar four-star waves are also expected on Monday and Tuesday.
The largest Severn bore in eight years surged up the estuary in March last year.
The Severn Estuary experiences the second highest tide anywhere in the world and the bore's average speed is 10mph.
As many as 60 bores can occur throughout the world where an estuary is the right shape and the tidal conditions are such that the wave is able to form.
The Severn is about five miles (8km) wide as it passes Avonmouth, narrowing to one mile (1.6km) past Lydney and Sharpness and less than 100 yards (91.5m) from Minsterworth to Gloucester.
Gloucester Harbour trustees have previously urged power boats to stay 200m back from the crest of the wave to reduce the chances of surfers and kayakers being injured.