Stephen Morris takes another listen to Stereo Influence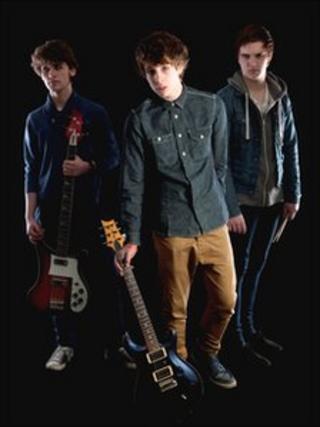 Last time I wrote about Stereo Influence, I was a little…harsh.
Something about "a series of adolescent clichés about injustice and well-worn lyrics strung together over a paint-it-by-numbers heavy indie accompaniment".
There was also a comment about a "tuneless vocalist who could probably find work elsewhere testing cough sweets for a living".
Things have changed somewhat since that April 2010 review. Chief among these changes is the band's line-up.
Marcello Costantinou is now the sole original member remaining.
He's been joined by new band members Barney Caswell and Jake Fogarty and has attracted support from Neville Staple from The Specials, Diane Charlemagne, who has worked with Moby, Goldie, Professor Brian Cox's old band, D:Ream and Shane McGowan collaborator Steve Etherington.
But enough of the name dropping. What is Stereo Influence Mark Two actually like? Are the changes for better or for worse?
In general, it's good, or at least better news.
'Less predictable'
The tuneless vocals are a bit nearer to the correct pitch for a start - with the obvious exception of 'Slipping Away' (although there is something of a boredom in the delivery of lyrics at times).
Meanwhile, the heavy indie accompaniment has been toned down and is now a little less predictable.
The hints at Joy Division (a good thing) are gone (oh well).
You'll now find a sound that aspires more towards 80s and 90s stadium rock rather that 70s/80s underground indie.
And the lyrics? Well, there's some cliché still there (lots of talk about vague yearnings for something better, if intangible).
But when the band relax from over-used metaphors ("See you in the distance" or "All the things that I used to say/I really wish they'd wash away"), the lyrics become slightly baffling.
What, for example, do the following lines from 'Warlike Symphony' mean: "But there's no horizon and there's no domain/for the warlike child with the symphonic brain"?
'Warlike Symphony' itself starts off impressively enough.
There's a bit of echo-y/reverby speech, a sample of a huge choir, and the sound of an enormous pipe organ in the space of the first 11 seconds alone.
Things then slide into a nice bit of guitar work that will remind you of REM's 'Orange Crush', before settling into a decent enough sounding indie-rock tune with a Neil Tenant-ish half spoken/half sung vocal. It's just...those lyrics.
'Odd lyrics'
You'll find other examples of odd lyrics elsewhere in Stereo Influence's songs.
"You let the colours run to the fastest drum" from 'Sever All Ties' is either a mixed metaphor or an observation about a washing machine fault. I'm not quite sure which.
As for the Brian Blessed-wannabe exclamation of "TO LICHTENSTEIN!" later on in the same song, I'm equally confused.
Then again, Freddie Mercury shouted out "FRIED CHICKEN" at the end of 'One Vision' and no one ever complained.
So maybe I should just keep my suspicion of lyrical non-sequiturs to myself.
Mind you, the urgency with which this Europhile injunctive is delivered kind of makes me want to go there.
Maybe the band know something we don't about the tourist opportunities available in this double landlocked tax haven with excellent winter sport facilities.
Away from the lyrics, the new Stereo Influence line up has brought a fresh confidence to the band's sound.
Musically, the band are exploring different styles - and sounding all the richer for it.
It's a bigger sound with string effects along with the aforementioned choirs and pipe organs.
The result means songs like 'Slipping Away' have a lighter waving quality recalling early Embrace.
'Looking up'
Elsewhere, songs like 'Devil's Cup' have something of a bombast to them: part New Order, part Franz Ferdinand, while 'Lost and Found' recalls the Gothic-lite power ballads of the 80s.
I won't dwell too much on the use of the word "twilight" in the lyrics. It'll only set me off again.
So things are looking up for Stereo Influences.
In my review of the band in their previous incarnation I suggested that a few songs down the line, we could be onto something.
Well, a few songs have now come and gone and we're getting there.
Maybe just a few more and then we'll have something magnificent.