Cheltenham Art Gallery and Museum gets upgrade grant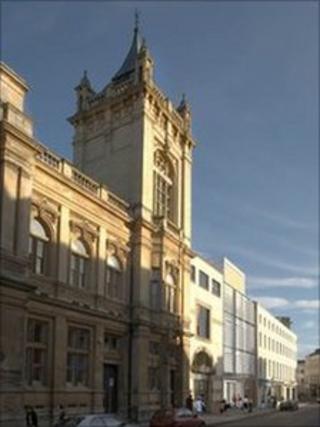 Cheltenham Art Gallery and Museum has been awarded £750,000 towards redevelopment by the Heritage Lottery Fund (HLF).
Plans include extra galleries, open access stores and study facilities, an expanded events space and a larger cafe and shop.
The building will close on 1 April for the collections to be put into storage and work is due to start in June.
The new building is expected to reopen in late 2012 or early 2013.
Plans also include dedicated spaces for lifelong learning, education, outreach services and arts development programmes.
The scheme will provide a more prominent entrance to the art gallery and museum, and create a new footpath to Cheltenham's oldest building, medieval St. Mary's Church, from Clarence Street through to Chester Walk.
Councillor Andrew McKinlay, Cheltenham Borough Council's cabinet member for sport and culture, said: "This huge redevelopment scheme will create a 'first stop' for visitors to Cheltenham with the relocation of the Tourist Information Centre in the new building, and a focal point for the development of a 'cultural quarter' in the town."
The refurbishment had been at risk after the HLF said it would only make its donation if it was sure the project would go ahead.
But the council said it would underwrite up to £5.5m of funding to help secure its future.
A total of £5.4m has now been raised out of the £6.3m target for the redevelopment.
The outstanding amount of £919,000 has been underwritten by the council, but the trustees from the Cheltenham Art Gallery and Museum Development Trust are still actively seeking to raise funds to cover the underwriting.