Tewkesbury School to end early on Fridays to cut costs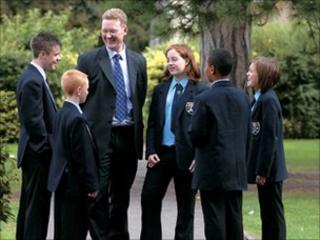 Pupils at a Gloucestershire secondary school are being sent home early to help save money.
From September, lessons at Tewkesbury School will finish at 1430 GMT on a Friday instead of 1525 GMT.
The school has to save £200,000 in the next financial year due to cuts in government funding.
Head teacher John Reilly said some parents had expressed concern about the early finish, but staff cuts were needed to avoid a budget deficit.
"By reducing an hour of the timetable, we've cut the number of staff we need to deliver the curriculum," he said.
"The changes will save the equivalent of approximately four full-time teaching posts. We've been going through the redundancy process.
After-school activities
"It's not a decision we've taken lightly. What we have done is made a conscious decision to protect our curriculum delivery in terms of subjects.
"We were facing a budget deficit if we took no action. The only alternative would be not to run so many subjects. We offer a broad curriculum and we wanted to protect that."
He added there would be a homework club, other after-school clubs and sports centre activities on offer to pupils who were unable to return home at the earlier time.
Alison Hek, chairman of the Parent Teachers and Friends Association, said there had been a mixed reaction from parents.
"Some of the parents say: 'We work, it's difficult', but I think the school isn't a baby-sitting service.
"My concern is always the education, but the actual teaching time is going to be the same. Personal development and citizenship, say, will be in shorter bursts. That has been a difficult concept to get over to the parents."