Busy Gloucestershire vicar on 'precious' family time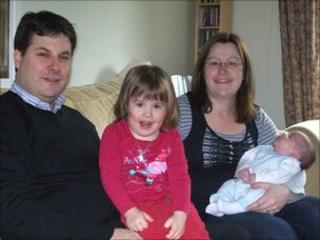 Speaking during Lent, a Gloucestershire vicar has said that being a clergyman is not a one-day-a-week job.
Rev Andrew Axon, of St Phillip and St James Church in Hucclecote, said most clergy work about 50-70 hours a week.
"Every day is different" said Andrew, who spends time in schools, prison, hospitals, at funerals, weddings and baptisms and has daily church duties.
Wife Lucy recognises that "time together is quite precious" because Andrew is out most evenings.
The Axon family can be heard throughout Lent with Richard Atkins on BBC Radio Gloucestershire's Sunday breakfast programme discussing their faith and what Lent means to them.