Cheltenham ex-offender given Prince's Trust award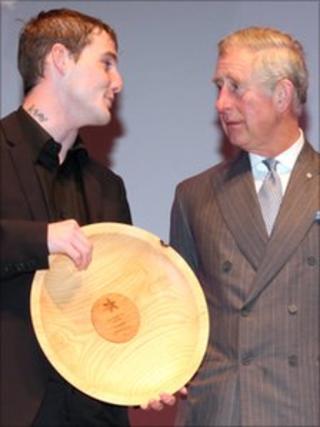 An ex-offender from Cheltenham who is about to launch a gardening business has won a Prince's Trust award.
Jason Newman, 23, has spent time in prison, lived on the streets and battled a drug addiction but said life had now "completely changed".
Mr Newman said winning the Prince's Trust's Breakthrough Award was a "huge confidence boost" and he was determined to make his new business a success.
The award was presented by TV physicist Professor Brian Cox.
Life of crime
Mr Newman left home at 14 years old and found himself living on the streets, selling drugs to get by.
At the age of 16 he spent time in prison and on his release became addicted to amphetamines and alcohol and returned to a life of crime.
"I feel terrible when I think about how my life was back then," he said.
"I was homeless and selling drugs, and I finally realised I had to sort myself out."
Following advice from his local JobCentre, Mr Newman turned to the Prince's Trust for help and signed up for a course and then an enterprise programme.