Cheltenham artist creates work of art in the Holy Land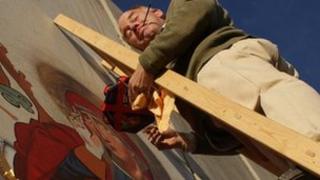 A Cheltenham artist has created a new work of art in the Holy Land.
Ian Knowles painted his design on the separation wall between Bethlehem and Jerusalem.
The painting is situated close to the Greek Catholic Emmanuel Monastery where he teaches sacred Christian iconography.
Mr Knowles has used techniques which are believed to date back to the 6th Century to help restore churches in the Middle East.
The latest work of art, Our Lady Mother of God, Mother of the Church, created on the Bethlehem wall is the same image as one commissioned by the sisters as a panel icon which they intend to give as a gift to the Pope.
Mr Knowles said the process of painting an icon was a spiritual one, and he prayed before and during such a creation.
"When you paint an icon you're trying to be in the presence of Christ and in communion with the saints," he said. "You're painting from the heart."
Founder of the Bethlehem Icon School based at the monastery, Mr Knowles teaches locals the ancient and uniquely Christian art form which, according to his own research, originated in the Holy Land in the 6th Century.
He only uses natural pigments and the colours are mixed together using an egg yolk emulsion.
Rabbit skin glue or gelatine is also used, and the panels are usually made of lime wood.
An exhibition of Mr Knowles' artwork will be held in the Hub at Christ Church, Cheltenham, from 8-14 April.
He will also present a series of talks and host some workshops.