Gloucestershire soldier shot dead by Afghan insurgent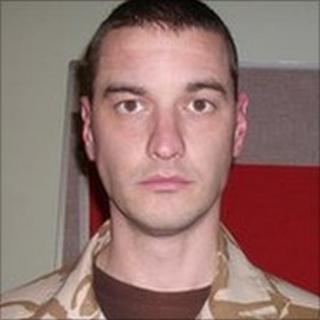 A firefight with Afghan insurgents that resulted in a soldier losing his life as his unit was surrounded, has been recounted at an inquest.
Lance Bombardier Mark Chandler, 33, of the 3rd Regiment Royal Horse Artillery, was shot dead in Nad Ali, Helmand, during a patrol on 8 June last year.
Wiltshire and Swindon coroner David Ridley recorded a verdict of unlawful killing while on active service.
The soldier, from Gloucestershire, was shot in the head by an insurgent.
Lance Bombardier Chandler, from Nailsworth and known as Bing, had been on a standard early morning patrol with 26 British and Afghan personnel when his section came under fire.
Capt John Mercer, fire support commander on the patrol, told the inquest the area was a Taliban heartland at the time known as The Jungle.
But he said nothing abnormal was happening initially.
"Children were playing. It was a peaceful sunny morning. It didn't seem as rough as other times we had gone in. At this stage, I was happy," Cpt Mercer said.
'Close quarters'
But he told the hearing in Trowbridge, Wiltshire, that the "atmospherics" soon changed when Taliban were spotted in a compound and local women and children were being herded away.
The officer said the patrol decided to split up. The officer along with Lance Bombardier Chandler and Corporal Shaun Barrowcliff with others then moved another way and started to cross a track.
"It was at that point we came under contact. Initially, I felt it was very close quarters," he said.
"I believe they were aiming at myself and Bing. It was a burst of automatic fire and, as we know, one of them hit Bing.
"The firefight then became fairly busy. Rounds were going everywhere. I heard the rounds. I took two steps forward but there was no cover at all. I was standing against the wall waiting to be shot. There was nothing I could do about it."
Capt Mercer then saw that the rounds were coming from reeds nearby.
"I remember being rather scared but that quickly disappeared when I saw Bing was on the floor in the road. Bing was face down on the floor.
"Cpl Barrowcliff was on the other side of the road. He was shouting at Bing saying, 'Bing, Bing'.
"I began to see a small pool of blood coming out of his neck and then Cpl Barrowcliff grabbed his foot and was saying, 'come on Bing'.
"Cpl Barrowcliff broke down and he was crying. He was saying to me, 'he's dead, boss, he's dead'."
The coroner said Lance Bombardier Chandler had died instantly.