More police on beat in Gloucestershire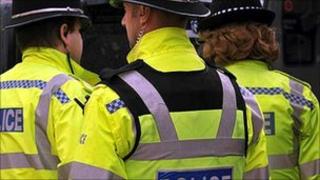 Policing in Gloucestershire undergoes major changes from midnight with more officers in visible roles.
The force said the restructuring was necessary to meet budget cuts and changes in community needs.
Many staff will move from plain-clothed jobs and go back into uniform - either on the beat or responding to incidents.
But Gloucestershire Police Federation said the force now faced a new challenge with a "disenchanted" workforce, unhappy at the changes.
The structure of the constabulary has been under review since 2009.
The changes, which will save more than £4m a year, are said to be the most significant in the county since 1998.
Several specialist teams, such as the economic crime unit, are being disbanded with work being carried out by general detectives.
More officers will be deployed at peak times, such as on Saturday nights, rather than having staff in the office on a quiet weekday morning.
Modern day policing
Six Local Police Areas (LPAs) are being introduced in Cheltenham, Tewkesbury, Gloucester, the Forest of Dean, Cotswolds and Stroud, each led by a superintendent.
There will also be nine Local Policing Teams (LPTs) be led by inspectors.
Chairman of Gloucestershire's Police Authority Rob Garnham said: "It provides the continuing presence of neighbourhood policing, which we know is much liked by the public, with a response capability that meets the demands modern day policing.
"The review also helps us to meet the financial challenges and need for savings facing every constabulary in the country."
But Ian Anderson, chairman of the Gloucestershire Police Federation, said some officers were upset at being forced back into uniform.
"The challenge now is dealing with a disenchanted police service, not only having to suffer changes in roles for which they've worked hard to achieve, but also a reduction in their pay," he said.
Assistant Chief Constable Ivor Twydell said: "Clearly, some of our officers will be unhappy about having to change roles that they do really well and love.
"But that's what happens throughout organisations and throughout life. Change takes place to try to keep up with what's happening and respond accordingly."